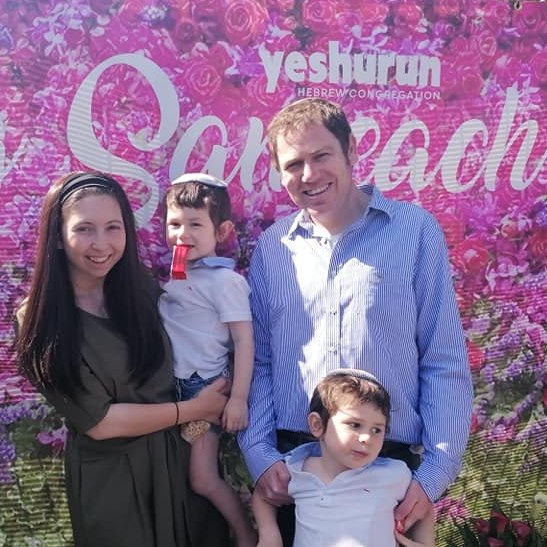 Rabbi Greg and Hannah joined Yeshurun in November 2019, energised with a vision to take Yeshurun to new and exciting heights.
According to this dynamic Rabinic couple, their main role is to provide genuine and sincere care for congregants spanning across the age spectrum and inject the community with activity, relevenace and a constant vibe.  
Rabbi Greg studied at Yeshivat Har Etzion(Gush) for ten years , completing the Hesder Prgroamme and studying in the Kollel Halachah. He served as a combat medic in the IDF. Studying for a B.ed. from Hertzog College, Rabbi Greg has always felt that education is a fundemental to Jewish growth. Previously, Rabbi Greg served as the Youth Rabbi at the Linksfield Shul, one of Johanessburg most vibrant synagoues. He held a number of educational roles in shools in South Africa and gap year programmes in Israel and iss laso a licensed tour guide for Poland trips.
Hannah is a native Manchunian, She stuided at Midreshet Haroavah after school and then went on to complete her B.ed. at Michlala in Jerusalem. She is a dynaimc educator and has taught both mainstream and in intergrated environments in South Africa and Israel. 
Rabbi Greg and Hannah completed World Mizrachi's Shalhevet Programme for training rabbis and educators and are also both trained Charan and kallah teachers repectively. 
The Banks' biggest assest are their teo young boys Geffen and Dekel.